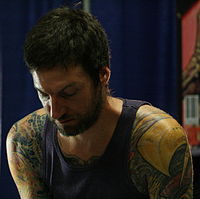 Name: Guy Aitchison
Locations: Hyper Space Studios
Work History: Scrapnel Records
Specialties: Natural geometry and organic structure; All types of psychedelic & transcendental art
Website: http://www.hyperspacestudios.com/
He is the brother of former LA Ink TV personality, Hannah Aitchison. He was also a guest artist on LA Ink. He gave Rob Zombie his first tattoo in 1989.
Ad blocker interference detected!
Wikia is a free-to-use site that makes money from advertising. We have a modified experience for viewers using ad blockers

Wikia is not accessible if you've made further modifications. Remove the custom ad blocker rule(s) and the page will load as expected.