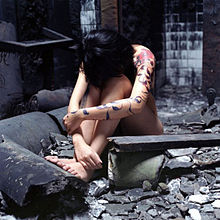 Name: Joey Pang
Locations: Tattoo Temple
Work History: China, England, France, Switzerland, New Zealand
Specialties: Chinese, Watercolor, Calligraphy
Website: Official Site
Joey Pang (born in Yunnan, China) is a Chinese tattoo artist that has been featured on CNN, AP and numerous other publications. She is held to be the first artist in South East Asia to introduce custom designed body art as opposed to 'flash-tattooing'. She has worked on multiple celebrities including Hong Kong's Candy Lo[1]. Joey Pang is based out of Hong Kong, SAR China. She is the world's only professionally trained Chinese calligraphy artist who also is a tattooist. Joey Pang is know to have pioneered a specific brush-stroke tattooing technique that more closely mirrors the tracer lines found within traditional Chinese calligraphy art. She is also renowned for her detailed color and layering tattoo techniques seen used most frequently throughout her complex Asian mythology tattoo art. Joey has been tattooing since 2000. She has been involved in design projects including a collaborative range for Indigo Hong Kong producing 'tattooed furniture', the Hong Kong Dragon Boat logo re-design for the Hong Kong Tourism Board, calligraphy art for Legend Fighting Championship and the Hong Kong Parkour Association. Her artwork and philosophy have been featured on CNN, AP, The Travel Channel, BMEzine, South China Morning Post, Apple Daily, The Independent and the Hong Kong Economic Times.
Ad blocker interference detected!
Wikia is a free-to-use site that makes money from advertising. We have a modified experience for viewers using ad blockers

Wikia is not accessible if you've made further modifications. Remove the custom ad blocker rule(s) and the page will load as expected.