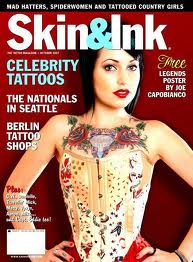 Skin & Ink
Although you won't get a heaping helping of pictures in this periodical, you will get enough to satisfy your craving. Along with high quality photos, you will also be able to feed your mind with information and articles that deal with the historical and signifant aspects of body art in society. It's a perfect blend of eye candy and meaty material.
External References
Edit
Ad blocker interference detected!
Wikia is a free-to-use site that makes money from advertising. We have a modified experience for viewers using ad blockers

Wikia is not accessible if you've made further modifications. Remove the custom ad blocker rule(s) and the page will load as expected.