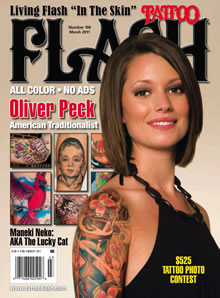 Tattoo Flash is all pictures, NO ADS, all color. If you want flash and tattoo pictures, you will not be disappointed. This magazine is huge and packed full of both photos and drawings. You'll occasionally find some light reading about a particular artist or collector, but for the most part it is all art.
External Links
Edit
Ad blocker interference detected!
Wikia is a free-to-use site that makes money from advertising. We have a modified experience for viewers using ad blockers

Wikia is not accessible if you've made further modifications. Remove the custom ad blocker rule(s) and the page will load as expected.