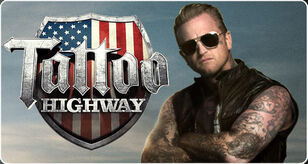 Tattoo Highway is a hafl-hour documentary television series about a tattoo artist, Thomas Pendelton driving around the American Southwest with his crew in a tattoo shop converted bus. It premiered on A&E Network Wednesday May 27, 2009.
Thomas Pendelton is a 15-year tattoo veteran and star of former A&E hit Inked. He and his new business "Ministry of Ink" hit the road in this new series to transform personal stories into living art.travels the country in a mobile tattoo parlor of his own design, a converted 1970s Silver Eagle Tour Bus. On the outside, it's a moving metal canvas of Thomas' art; on the inside, it's a fully functional tattoo studio. With his wife and a slew of artists in tow, Thomas hits the road to find the stories that need to be told and tattooed.
About the Show
Edit
To create a touching memorial tattoo that brings him to tears, Pendelton mixes the cremated ashes of a deceased wife into the ink for a portrait on her husband's chest. For another job, he uses UV ink for a tattoo only visible with a black light, for one man's constant reminder of his mother. From a pair of matching eggplants, to a giant gorilla riding a scooter and an emblem of Apache stars on the forehead of an elderly woman, Pendelton and his team encounter unusual and inspiring stories from Las Vegas, Los Angeles, Phoenix, Salt Lake City and beyond.
External References
Edit