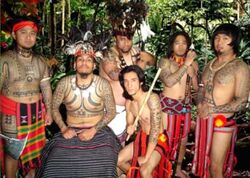 Tattooing in the Philippines is a tribal form of rank and accomplishments. Some tribes believed that tattoos had magical qualities. Filipino tattooing was first documented by the European Spanish explorers as they landed among the islands in the late 16th century. The tattooed Filipino tribes were the tribal peoples of the mountains of North Luzon, especially among the Bontoc Igorot, Kalinga, and Ifugao peoples, which were infamous for head-hunting. A tribal member would receive a tattoo (known as a "Chaklag"), which meant they had taken the head of an enemy tribe or warrior. Women in Filipino tribal society also traditionally tattooed themselves and was seen as a form of beauty among women; notably women of the Luzon mountain tribes received full arm and chest tattooing, whilst in the Visayas and Mindanao they typically only tattooed their hands and wrists.
Ad blocker interference detected!
Wikia is a free-to-use site that makes money from advertising. We have a modified experience for viewers using ad blockers

Wikia is not accessible if you've made further modifications. Remove the custom ad blocker rule(s) and the page will load as expected.