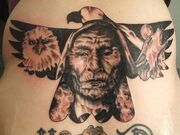 The tribal styles we see today originate from various old tribes like those from Borneo, the Haida, the Native Americans, the Celtic tribes, the Maori and other Polynesian tribes. The shapes and motifs of these tribal tattoos are deeply rooted in the tribe's mythology and view of the world.
The traditional tattoo artist aims to reflect the social and religious values of the tribe in his tattoo designs. Recurring themes are the rituals of the tribe, the ancestors, the origins of the world and the relationship with the gods.
Ad blocker interference detected!
Wikia is a free-to-use site that makes money from advertising. We have a modified experience for viewers using ad blockers

Wikia is not accessible if you've made further modifications. Remove the custom ad blocker rule(s) and the page will load as expected.