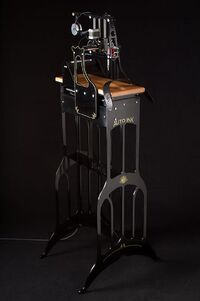 Tattoos require a lot of work and effort; not only is it permanent, but you have to go to a tattoo parlor to get inked. Well, now you just may not have to! Apparently, there are "Automatic Tattoo Machines" that do the work of a licensed tattoo artist. Just buy this puppy and boom, you can get inked anywhere, anytime!
While it looks a bit sinister in the most expensive, sleek way possible, it's a legitimate work of art/machinery by Chris Eckert. Be sure to check out his website; you can see just how much effort his put into the machine.
Watch the video below to watch the machine at work. Will you be trying it out, or do you prefer the good old-fashioned way?
Video
Source

Kate.moon 21:28, May 20, 2011 (UTC)